World Water Week was again the platform to acknowledge, share and tackle the global water challenges that lie before us. One way to make waves and create a stir towards finding solutions is by involving youth. Wavemakers United launched its UN2023 Gamechanger Challenge in Stockholm to actively engage with students worldwide, create sustainable partnerships, and find local solutions.
The Goal of the Gamechanger Challenge is to develop an innovative and implementable idea that takes on global water challenges and ensures a climate resilient future. Who is the Challenge's target group? Students with a passion for water. The UN2023 Gamechanger Challenge is all about the connection between youth and water, and looking for out-of-the-box ideas, inventions, and innovations. The Challenge is a collaboration between Wavemakers United and NWP member IHE Delft Institute for Water Education that works to create a united global movement related to the Sustainable Development Goals involving youth, students and young water awareness experts.
In early 2022, NWP signed a Memorandum of Understanding with Wavemakers United to create an international youth platform to inspire, enthuse, and activate young people, and make water, food and energy innovations visible, thereby creating awareness around the various global challenges we are facing.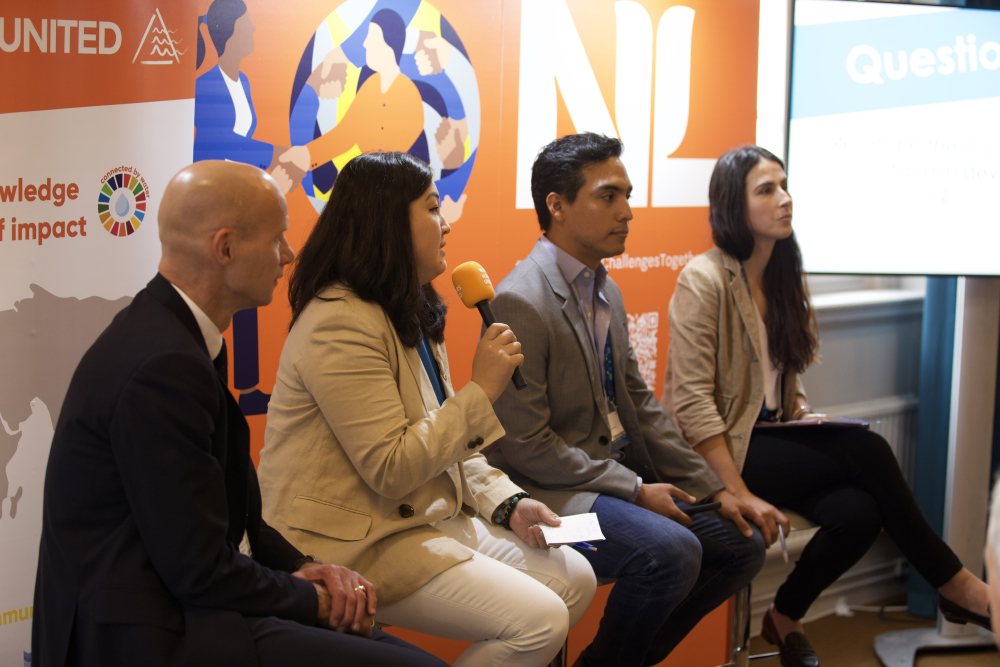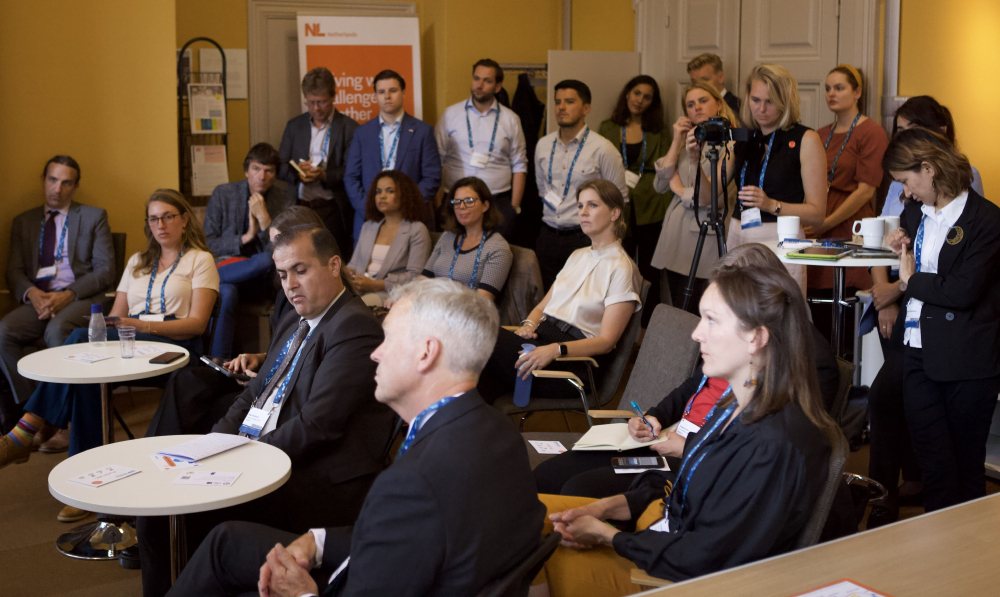 Full house at the launch of the Wavemakers United UN2023 Gamechanger Challenge at the Stockholm World Water Week.
NWP supported Wavemakers United to present its UN2023 Gamechanger Challenge in the Government of the Netherlands booth at the Stockholm World Water Week exhibition floor. Now that the Challenge has liftoff, what are the next steps to create local impact? We asked Tilly Stroo, founder and Managing Director of Wavemakers United.
This competition does not shy away from one of the biggest challenges we face today: the Paris Climate Goals to ensure a climate resilient future for all. What is the plan?
Our aim is to create awareness of the Paris Climate Goals together with the next generation through water and positive energy. We work with many youth networks worldwide and inspire them to come up with solutions to make our future climate resilient. Our plan is to bring together as many people as we can in this Challenge who work with rather than against each other. This approach enables us to reach communities that are normally hard to reach with sustainability initiatives. The UN2023 Water Conference in New York must be the catalyst for a global community of changemakers!
The challenge is primarily focused on creating partnerships and awareness, supporting SDG 17, and creating local youth participation. How do you make young people heard and their ideas viable?
During our Challenge, the youth bring their water-related knowledge to local communities to increase their impact and gather new ideas for innovations. We connect them to experts that organise masterclasses, companies that become their case-owners, and knowledge institutions that offer interesting fields of future studies. Our network of public institutions, the private sector and NGOs support them in their mission.
Along the way, our community serves as a platform for changemakers. We engage in local and global events where we connect sports to science, and make their voice heard on the global stage. Apart from this, our community is present at global climate events such as COP and the UN2023 Water Conference to encourage policymakers and other stakeholders to create a climate resilient future.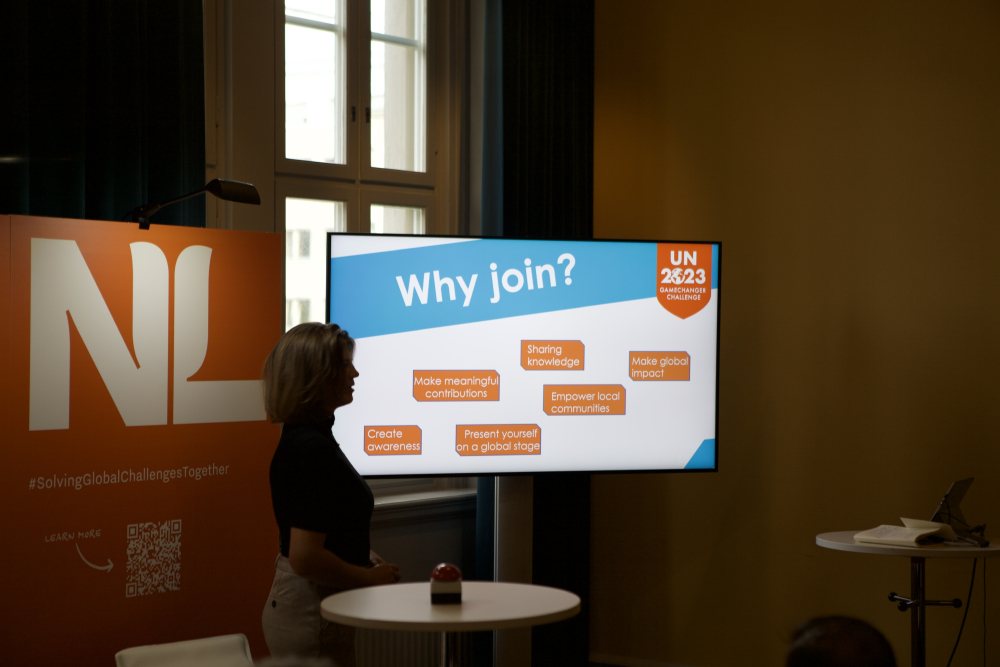 Reasons for the global water community to join the UN2023 Gamechanger Challenge
What do you need from the global water community to make sure youth engagement is part of their daily work?
We need them to share our initiative and mission, and to step outside their comfortable and valuable water bubble. We all know how critical water is, but outside the water bubble it is much lower on the agenda. Our knowledge and passion must be shared to increase our impact and contribute to the Paris Climate Goals. The creativity and energy of the next generation is the perfect accelerator for this. To enthuse them for a career in sustainability, we need to embrace their knowledge, trust their dreams, and give value to their vision. We need to help them think in terms of solutions, instead of threats, and take a positive approach.
The name of the Challenge already states it, you are working towards the UN2023 Water Conference. What lies beyond New York in relation to this challenge?
We believe that this Challenge is the catalyst for a global community of changemakers that will help achieve the SDGs by 2030. Every participant is a winner who can join us in going beyond New York. We must not stop collaborating after the UN2023 Water Conference; we want to keep the community engaged and youth at the centre of sustainability. All the ideas that are being developed in the run-up to New York deserve a next step, and being turned into concrete water and climate solutions. We are committed to creating a platform that facilitates this, and to do so with positive energy.
Source: https://www.netherlandswaterpartnership.com/news/make-youth-climate-gamechangers-today